Placement Spotlight – Senior Full Stack Engineer
2 Candidates Presented, 1 Hired in Houston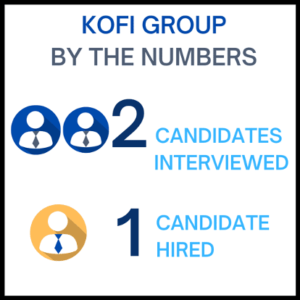 A Little Background
Joseph Gordon, Senior Executive Recruiter at Kofi Group, has deepened relationships with Kofi Groups clients. After several successful placements with a client, their VC firm became interested in recruiting Kofi Group to help some of their other investments along. They connected us to a seed-stage startup in search of a Senior Full Stack Engineer with experience in the niche technology they work with.
The Problem
1. Restricted Talent Pool
The position filled was an on-site position with no remote work option available meaning Joseph had to find the right talent in Houston or find talent willing to locate. In addition the tech stack needed was very niche and particular.
The client is a startup that operates in the waste management domain, out of Houston. "Not necessarily the sexiest domain to be recruiting for," says Joseph. "But they are addressing something that has very antiquated technologies. They are bringing things up to modern times."
2. Knowledge of Market
"From my experience, the Houston market is saturated in the Microsoft technology stack. The talent pool leans heavily toward enterprise software versus open source technologies. Therefore, I'm immediately working with only 20% to 30% of the candidate pool in the Houston area," Joseph explains.
The Solution
1. Knowing Where to Look
Because the client was looking for someone in the Houston/Texas area with a highly specific technology stack that isn't indicative of the market in Houston, Joseph knew he'd have to search well and hard to find the right candidate.
 "I have a large network, so I started my search in the Houston area. Then geographically spread out from that point. I eventually found the hired candidate in New York, but he was open to relocation to the Houston area."
2. Appropriate Coaching and Guidance
Joseph needed to make the client aware of the market rate for a hire of this seniority with this specific skillset. The offer had to be compelling enough for him to accept and not pursue other opportunities at this point. The initial offer the client made was around 20% below the candidate's expectations.
"Given the current market – everybody is hiring right now – it's a different dynamic. The power is with the candidates and not necessarily with hiring companies," says Joseph. "They needed to 'wine and dine' the candidate, versus the candidate needing to wine and dine them. They needed to grasp this when it came down to the final offer stage."
Compensation negotiations can be tricky, balancing the needs and expectations of both sides. Joseph managed these, bringing the two sides to a mutually agreeable package that included a signing bonus.
The Kofi Group Approach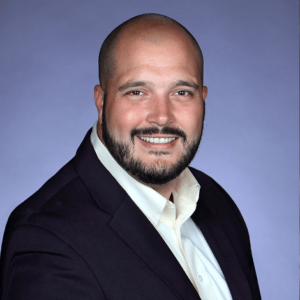 Throughout the process Joseph worked alongside the candidate and client to set expectations. He coached the client on understanding current market demands, the candidates needs, and how to put their best foot forward to ensure success. He also worked closely with the candidate throughout the process to encourage engagement and discuss questions or needs to ensure the candidate is getting what they want out of the opportunity as well. This kind of expertise can only be gathered through time in the industry and working with enough people to understand the important nuances.
Joseph also helped the candidate by walking through his resignation to his current manager. He wanted to stay to complete the project he was working on, and make sure he didn't burn any bridges. Joseph communicated this to our client, to ensure that the transition from old company to new went as smoothly as possible.
It doesn't finish there, though. Post starting, Joseph commits to keeping in contact with the candidate to make sure they are still excited, that the onboarding process is going smoothly, and there are no red flags. "If there is," says Joseph, "I relay back to the client to say 'hey, we need to make sure the candidate is still getting the 'warm and fuzzy feelings' from you guys, because we're missing it'."
Sticking with the process from start to finish and then some, can make all the difference to a startup as they navigate the waters of building out their tech team.
Joseph understands the position that hiring managers often find themselves in. "They're used to other recruiters throwing resumes left and right at them – throwing spaghetti at the wall and seeing what sticks."
"Once hiring managers get to understand that we do things differently, and when they see us walking our talk, the relationship gets stronger. We end up taking that relationship and expanding it out," says Joseph. "I take a lot of pride in what we do. The referral aspect, and the fact that people are reaching out to me and wanting to work with me, means I'm doing something right."
The startup that Joseph hired the Senior Full Stack Engineer for has already asked him to find another Software Engineer and a Chief Technology Officer!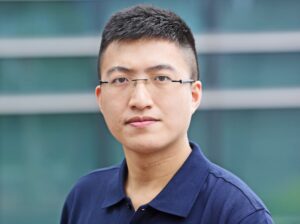 About the Candidate
We sent two high-quality candidates within a week of speaking with the hiring company. Excited by both, they interviewed each and chose the one who, for them, was the best. (The other candidate got placed elsewhere, too.)
The candidate they have hired has a BS in Computer Science with five years of software engineering experience. He came highly recommended by his references, and has architected and developed numerous applications with Python, Django, Angular, TypeScript, Docker, and Kubernetes.
The Kofi Group Edge: Time in Industry & Expertise

The approach that we take – searching for and presenting quality candidates over quantity – really pays off. It's harder work on our end, but it ensures the client is presented with highly specific candidates – which saves time and hassle. This precision comes from our experience and market knowledge, and because we work exclusively with startups – we know this market inside out.