Placement Spotlight – 9 Senior Full Stack Engineers Hired in 90 Days

A Little Background
Our client, a Series-B Developer tooling startup, backed by Bessemer Venture Partners, was struggling to hire full-stack software engineers. Despite having an internal recruitment team and working with several other recruiting firms, their candidate pipeline was almost nonexistent. To make matters worse, the candidates they were interviewing weren't making it very far in the process. This is where Kofi Group came in. Their VP of Engineering contacted us directly because he worked with us at a prior startup and remembered our focus on calibration, personalization, and overall responsiveness.
Kofi Group by the Numbers: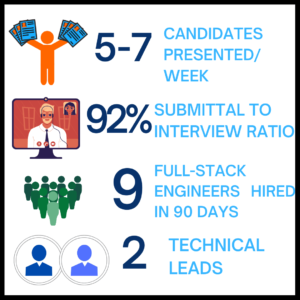 "On average, hiring managers extend an offer to 1 out of 5 candidates we submit, which helps them spend less time on recruiting and more time building great products…" – George Atuahene, Founder & Managing Director
The Problem
This dev tooling startup needed to hire true full-stack engineers; engineers who could jump easily from a modern JS based UI to the back-end server code that powers it. These engineers needed to be able to build clean, snappy interfaces that hide unnecessary complexity and be equally comfortable scaling microservices and databases to support usage growth. From a culture-fit perspective, these engineers needed to be self-starters, open to constructive criticism/peer reviews, and have a strong passion for building performant and highly scalable applications. Being a remote-first company, they also needed engineers to be highly collaborative and communicative.
Most of the candidates this startup was receiving were either too frontend or backend focused, or didn't have experience building large-scale, user facing applications. The bigger challenge was at the top of the funnel; they just weren't seeing enough candidate flow to address all their open roles.
"Most startups have a top of the funnel issue when it comes to hiring engineers because the lack the sales-like approach and time that it takes to pique the interest of passive candidates" – George Atuahene
The Solution
Kofi Group was able to deliver results quickly through our two-pronged approach and partnering with each hiring manager to drive results, which we'll discuss shortly. This strategy consistently yielded candidates who were not just interested in the startup but were well-qualified from both technical and cultural perspectives.
The Kofi Group Edge: Our Search Approach
First, we scheduled several meetings with their hiring managers and gathered as much information as possible on their tech stack, upcoming projects, technical challenges, gaps in the current team/team dynamics, compensation ranges, interview process, pitfalls observed with previous candidates, and key factors that made them unique from an employer-branding standpoint. We used this data to craft an outreach campaign that involved multiple touches with passive candidates; candidates who were sourced through social media, sites like GitHub, LinkedIn, and referrals from other engineers/engineering leaders.
We also reached out to engineers in our extended network and internal database. Our recruiters regularly speak with engineers who have strong academic background in computer science, 4+ years of production experience, and the grit/personality it takes to be successful at a startup. We have exploratory, low-pressure conversations with these engineers about their current roles, what they would change, comp expectations, and their future goals. Oftentimes, there isn't an immediate fit, but these regular conversations allow us to build a network of engineers – potential candidates for opportunities that may arise in the future with our clients.
"We've found that regularly having open conversations with engineers helps us to uncover the intrinsic motivators that lead to the best long-term fits with our clients. The best engineers make moves because of intellectual curiosity…they want to be challenged." – George Atuahene
The Kofi Group Edge: Communication is Key
While our search strategy helps us to identify, engage with, and introduce engineers to the right opportunities, effective two-way communication with hiring managers is what leads to good hires.
The VP of Engineering at this startup made communication a top priority; we created a Slack group with all the hiring managers, they added us to their ATS, and we scheduled weekly sync-up calls to stay on the same page, keep the pipeline moving forward, and strategize on how to land the candidates they were interested in.
Our team provided a brief cover letter for each candidate we presented to the startup, which included why we thought they were a fit for the role, why they were looking/what they valued, their top skills, academic background, work authorization, compensation expectations, and where they stood in their search. We debriefed with candidates after each interview to uncover concerns, address any miscommunication, and get a sense of how candidates were feeling about the opportunity – we then fed this information back to their hiring managers as prep info for subsequent interviews.
"With an always-be-closing approach, Kofi Group excels in prioritizing mutual fit with detailed insights and debriefs right through the process from screening to hiring. Their diligence and attention to detail has enabled us to strategically approach closing discussions for maximizing success" – VP of Engineering
The Kofi Group Edge: Collaboration at the Offer Stage
One of the most important things this startup did, which contributed to their hiring success, was partnering with us through the offer stage.
Some startups like to take control of the process at this stage and forget that we have long-standing relationships with the candidates we represent. This relationship often allows candidates to view our recruiters as trusted advisors, especially when they are considering multiple offers.
This startup chose to make us a big part of the offer process by delivering all verbal offers through our recruiters and working closely with us on any negotiations. This partnership empowered our recruiters to start the closing process long before the offer stage. During every interview debrief, we spoke openly with candidates about their concerns, questions, how this startup ranked compared to others they were considering, and what would make this opportunity rank higher.
The End Result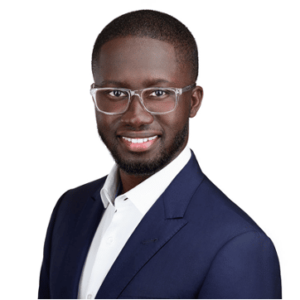 "I strongly recommend Kofi Group. If you are looking for a trusted recruitment partner who is selective, highly professional, offers sound counsel and can be relied upon to deliver successful growth outcomes for your organization, look no further." – VP of Engineering
The 9 engineers we've placed have all onboarded successfully with this startup and shared positive feedback about their experience so far. Many of them were so appreciative that they have referred other engineers to us.
This startup has decided to work with us to hire across their engineering org, including SRE/DevOps, Cyber Security, Data Science, Developer Experience, and Engineering Management. We look forward to their continued success and have several verbal offers to deliver next week!